We had a request to visit a beautiful Barn conversion on the Essex side of the market town of Bishop Stortford, the lady of the house was concerned about her Terracotta tiled Kitchen Floor which was dirty and had become difficult to maintain.
After taking look I could see that the sealer had worn down and was no longer preventing dirt from becoming ingrained in the pores of the Terracotta tile. This is a common problem with Terracotta which needs a sealer in place if you want to keep the floor looking its best. I recommended we strip off what was left of the old sealer, give the floor a thorough clean and then re-seal it over the course of two days. As it turns out the floor had not been cleaned and resealed in ten years, so my client was happy for me to do the work.
Deep Cleaning Terracotta Floor Tiles
The first step was to strip the floor off any remaining sealer using a strong dilution of Tile Doctor Pro-Clean. The solution was left so soak into the tiles for about twenty minutes before being scrubbed in with a black scrubbing pad fitted to a rotary floor buffer. At this point I also ran a stiff grout brush along the grout lines to get those clean as well.
The now soiled cleaning solution was rinsed with water and mopped off the floor. Any stubborn marks were then retreated using the same process and when I was happy that the floor was clean the floor was given a thorough rinse to remove any trace of cleaning product.
Having removed the old sealer and cleaned the tile and grout the next step was to apply a new sealer however the tiles needed to be dry to do. I decided therefore to seal the floor the following day and left an industrial air mover in place overnight to help dry out the tiles.
Sealing Terracotta Floor Tiles
Returning the next day to seal the floor I checked the floor first to make sure it was dry. All was well, so I proceeded to seal the floor starting with a base coat of Tile Doctor Colour Grow which is an impregnating sealer that soaks into the pores of the tiles, protecting them from within whilst simultaneously enhancing the colours in the tile.
Once the Colour Grow had dried I followed up with three coats of Tile Doctor Seal and Go Extra which like Colour Grow is a fully breathable sealer that lets moisture rise through the floor. Colour Grow however is a Matt sealer whereas Seal and Go adds a gives the floor a nice sheen.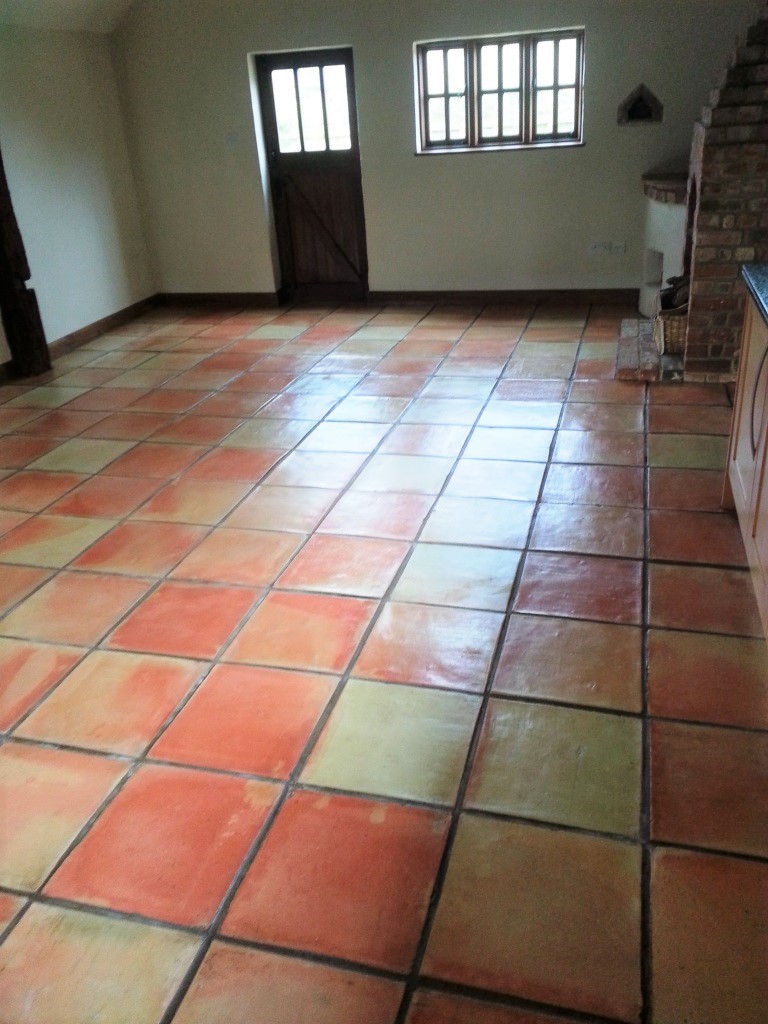 Terracotta Floor Tile and Grout Cleaned and Sealed in North Kent