This Terracotta tiled floor with Black tomettes was installed in the kitchen of a house in the town of Wivenhoe, south of Colchester. The floor had been partly replaced due to a water leak and the difference between the new and original was noticeable. Unhappy with the appearance the owner contacted me to see if anything could be done.
I visited the property to survey the Terracotta floor and I could see solution would be to deep clean the whole floor, including the Grout and then reseal with a sealer that would bring out the beauty in the tile and give both sections the same appearance. Happy to proceed with my plan we scheduled a date for the work to be done a few weeks later.
Cleaning a Terracotta Tiled Kitchen Floor
Cleaning started with the spraying the Terracotta floor with a dilution of Tile Doctor Pro-Clean which is our go to tile and grout cleaning product. After spraying onto the tile and grout it is then then left to soak in for around ten minutes before being scrubbed in using a rotary machine fitted with a black scrubbing pad. This process removed the many years of dirt that had built up in the original floor and got both areas clean to the same standard. Two litres of Pro-Clean was used during this process and a wet vacuum was used to extract the soiling and water used to rinse the floor after scrubbing. Pro-Clean is an alkaline product so once satisfied the floor was clean it was given a good rinse with water and further extraction to neutralise the pH of the floor after cleaning.
Sealing a Terracotta Tiled Kitchen Floor
The floor was left to dry out overnight and after checking moisture levels the following day it was sealed with five coats of Tile Doctor Seal & Go which is a water-based sealer that adds a subtle sheen finish. Terracotta being made from clay is very porous and so absorbed two litres of sealer before it was fully sealed and protected from ingrained dirt.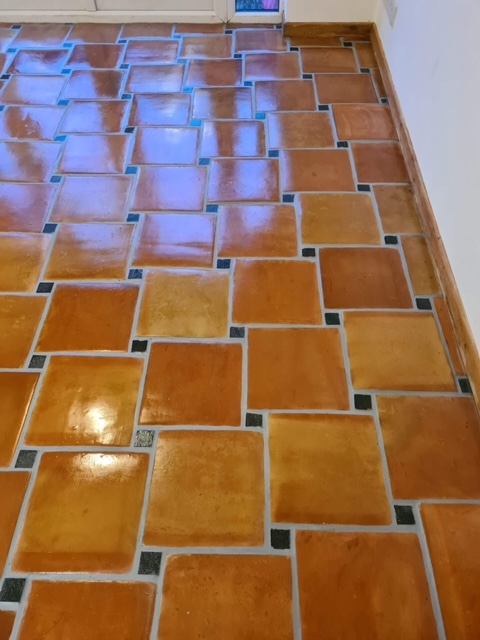 The new sealer did a great job of blending in the appearance of the new and old Terracotta floor and will make future cleaning much easier. Speaking of which, I recommend using Tile Doctor Neutral Tile Cleaner for regular cleaning, it's a pH neutral tile cleaning product that can be used daily if required. It's a mild cleaning product that won't strip the tiles of the newly applied sealer like many strong household cleaners can. It's also concentrated so a small amount goes along way.
Professional Renovation of a Terracotta Tiled Kitchen Floor in Essex